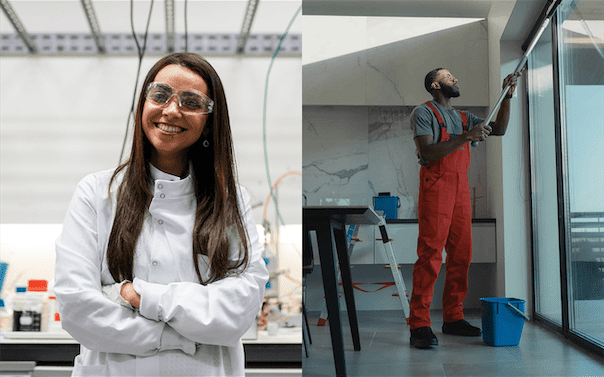 Industrial facilities such as factories and warehouses get dirty fast, and when cleaning isn't a priority, facilities can quickly become disorganised and dangerous. Industrial facilities usually have different and specialised cleaning requirements that should be left to the specialists.
Servest follows best international practices to ensure we deliver excellent and flexible cleaning services and schedules that won't disrupt productivity, but will keep employees safe, and premises clean, and productivity at its peak.1
What is industrial cleaning?
Industrial cleaning is thorough and consistent, ensures adequate sanitising, and uses specialised tools and techniques to meet cleaning and safety requirements. Industrial cleaning can include,1,2
· Floors
· Labs
· Loading docks
· Warehouses
· Storage areas
· Surfaces
· Locker rooms
· Heavy-duty equipment cleaning
· Exhaust system cleaning
· Construction debris removal
· Bathroom cleaning, sanitation, and supplies
· Window and glass cleaning
· Refuse removal and recycling
The following best practices will ensure your facility meets the gold standard of hygiene and safety.3
1. Adhere to cleaning plans
Keep a cleaning log to stay on top of all tasks. Daily cleaning should include checking for damage or spills, keeping floors clear of obstructions, disinfecting high-touch areas, keeping up with general repairs and maintenance, deep cleaning equipment, windows, and glass. A daily cleaning schedule will make monthly deep cleaning easier.
2. Dispose of garbage
Don't allow garbage or recycling bins to overflow—empty and clean regularly to prevent spills and pest infestations.
3. Clean out-of-reach surfaces
It's easy to forget those hard-to-reach areas, where dust gathers, triggering allergies that can make employees sick.
4. Remove or donate clutter
Expired stock, redundant furniture and out-of-date equipment only takes up space and gathers dust and dirt. Clear it out and donate what you can. Someone's junk can be another's treasure.
5. Make cleaning equipment accessible
Spills happen unexpectedly and can cause disruptions or accidents. Keep cleaning supplies in easy reach.
Industrial cleaning may be dirty and hard work, but it's necessary to keep your employees safe and facilities productive. Servest is up to the task to ensure your facilities meet industry cleaning requirements.